Ranch House BBQ & Grill
6157 Van Nuys Blvd, Van Nuys, CA 91401
Order now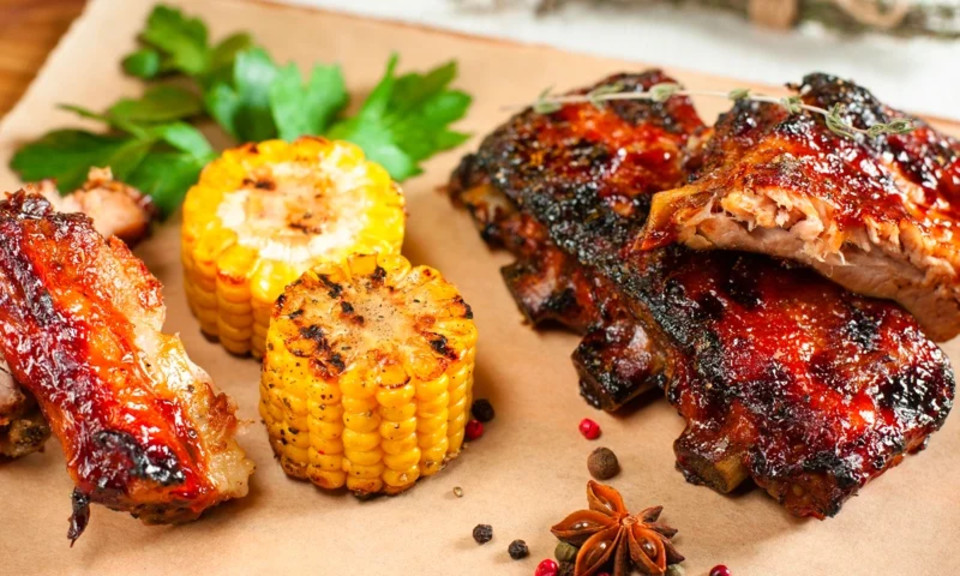 Catherine
We've ordered from Ranch House several times; and never have we been disappointed! The quality of food, competency and accuracy of the staff in preparing our order and, the pleasant and timely delivery of the drivers are most consistent-kudos to them, as well!
Our "Go To" Favorites are those from the BBQ and the Mexican Food menus. We haven't tried the Italian or other menu choices; so cannot address those.
Last evening, the Baby Back Ribs were moist, meaty, deliciously-flavorful with near-fall-off-bone tenderness: Excellent!
The Creamy Mashed Potatoes, addictively-delicious. Baked Beans and sauces very tasty, sweet and savory tanginess perfectly-balanced. All of the side sauces & dressings double-wrapped, preventing spills-appreciated care.
Husband ordered the Carnitas Taco Plate, really liked tacos-said very tasty, authentic; and will order again. Pollo Salad fresh, fresh, fresh-filled with crunchy cucumbers, carrots, multiple goodies. (We've had several of their salad items before-always fresh, tasty!)
Thus far, Ranch House is highly-recommended (especially, if Ya' have a hankering for some good pork ribs and mashed taters); and remains #1 on 'Favorites List!'
Rosa
Honestly, my food was about 30 minutes later than expected BUT it was amazing! I expected cold food, but it was hot, not warm, hot. The sides were ok, the mac and cheese could have been more flavorful. My kids totally loved their bbq chicken meal. One of them even said that it tasted amazing. The kid meals, in my opinion, are worth every penny. My sandwhich was great too and so were the mashed potatoes. The spaghetti was good, it had a hint of spiciness, keep that in mind if you are going to get it for a child. Overall, taste beats lateness. We are satisfied.
Red
This is a fabulous restaurant. Prices are very reasonable, service is fast and if you have any special instructions they follow them. If ordering for delivery on busy evenings, we've found that if you order earlier, ahead of the rush, you normally get everything ahead of the time stated. The pork ribs, mac and cheese, baked beans are the best for BBQ. They really know how to cook meat. We've also tried their sandwiches, pasta's and tacos which are great too. Highly recommended.
Ariana
Five stars because the food is amazing. Ive been ordering for years and at least twice a month. The only negative thing I have to say is they are never on time. ALWAYS late, but the food is worth the wait. Theyre probably swamped with orders because its so bomb. Understandable, but just dont rely on the ETA it says on the app. Expect at least a 10-20 minute delay.
Alicia
The food was delicious and amazing. Ordered the Full Slab of Baby Back Ribs & an extra slab of ribs since we were unsure if what we ordered would be enough and let me tell you there was more than enough and then some. There was no need for the xtra food ordered. Either way was very good and delicious and we will definitely order from here again!!!
About us
BBQ, Dinner, Grill, Italian, Kids Menu, Mexican, Pizza
Today

Delivery: 11:30 AM - 7:50 PM

Takeout: 11:00 AM - 8:30 PM

Delivery

Monday:

11:00 AM - 8:50 PM

Tuesday:

11:00 AM - 8:50 PM

Wednesday:

11:00 AM - 8:50 PM

Thursday:

11:00 AM - 8:50 PM

Friday:

11:00 AM - 8:50 PM

Saturday:

11:30 AM - 8:55 PM

Sunday:

11:30 AM - 7:50 PM

Takeout

Monday:

11:00 AM - 8:30 PM

Tuesday:

11:00 AM - 8:30 PM

Wednesday:

11:00 AM - 8:30 PM

Thursday:

11:00 AM - 8:30 PM

Friday:

11:00 AM - 8:30 PM

Saturday:

11:30 AM - 8:30 PM

Sunday:

11:30 AM - 7:30 PM